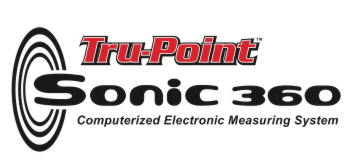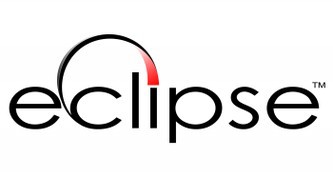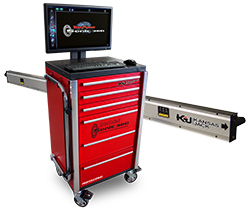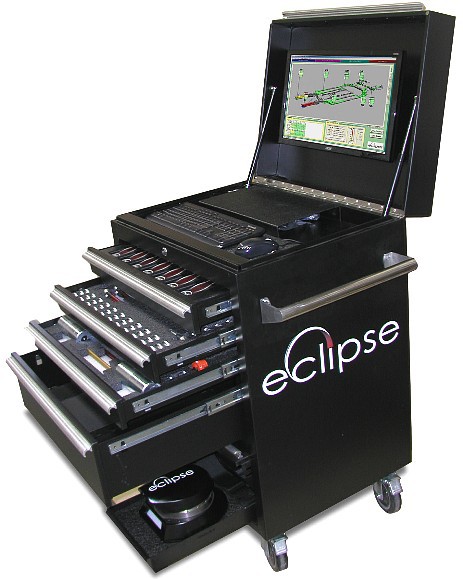 Premium Model (EECR907B)
The Tru-Point Sonic 360 is a computerized electronic measuring system that relies on ultrasound technology for dramatic productivity improvements and the industry's best speed and accuracy. The Tru-Point Sonic 360 provides "measure-as-you-pull" functionality that virtually eliminates costly rework.
The Tru-Point Sonic 360 will enable you to:
Get accurate measurements the first time, every time.
Monitor up to 12 live measurement points and see results as you pull.
Save time and money by avoiding re-work and stopping to fix hidden issues.
The patented Eclipse™ system utilizes cutting edge technology and advanced components, yet is extremely easy to operate. Its design allows the system to do the hard work, delivering reliable and accurate results. Innovative system components have been designed to be less expensive, versatile, and far more effective compared to other systems.
Wheel alignment, sometimes referred to as breaking or tracking, is part of standard automobile maintenance that consists of adjusting the angles of the wheels so that they are set to the car maker's specification. The purpose of these adjustments is to reduce tire wear, and to ensure that vehicle travel is straight and true (without "pulling" to one side). Alignment angles can also be altered beyond the maker's specifications to obtain a specific handling characteristic. Motorsport and off-road applications may call for angles to be adjusted well beyond "normal" for a variety of reasons.
Award-Winning Ultrasound Technology
The Tru-Point Sonic 360 uses ultrasound technology to collect measurements and track your repairs. Emitters on the probes are attached to the vehicle at specific points and send ultrasonic signals that are received by high-frequency microphones located in the light-weight extruded aluminum beam. The results are compared to manufacturer specs and any problem areas are identified automatically. This leaves the operator free to concentrate on straightening, not on how to collect measurements.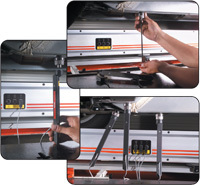 How the Tru-Point Sonic 360 Works
[Tru-Point Sonic 360 Accessory and Print Out] [Tru-Point Sonic 360 Beam and Probes]
The Tru-Point Sonic 360 relies on microphones located in the beam and ultrasound emitter probes placed at pre-defined points on the vehicle
The beam is made of light-weight aluminum, goes anywhere, and is light enough for one technician to handle
The Tru-Point Sonic 360 does not require a level rack, level car or level beam
The technician has the option of viewing digital images of each attachment point and following the step-by-step guides for connecting accessories and probes
The probes can be placed closely together and still maintain accurate readings - a feature not found on competitive systems
The Tru-Point Sonic 360 console provides a live depiction of these control points and their variance from manufacturer specs with vivid, easy-to-read graphics
During repair, these measurements are displayed as they change, allowing for extremely accurate, "right the first time" pulls and eliminating the back-and-forth process associated with competitive models
Upper-body and under-hood measurements are obtained with ease using the included accessory, eliminating the need for any mechanical measuring devices or bridges
An optional, second upper-body measuring accessory further improves job times
Before and after-repair measurements are captured for reporting purposes
PDF's can be saved and e-mailed to the customer's insurance company

Live Measurement Display Options
Live measurements enable real time feedback of your pulls, saving time and putting more money in your pocket. Three available display options of these measurements cover every technician's preference. The XYZ coordinate option provides easy-to-read distance and direction. Graphical displays of XYZ coordinates and of net pull angles are also available.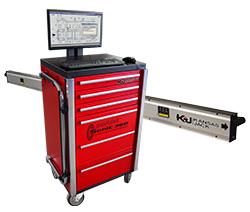 Standard Model (EECR907C)
​

Tru-Point Sonic  Standard
Standard Model
Hardware
8 Control Point - Live Active Measuring
180° Underhood Measuring Accessory (1 MCP)
Premium Tool Box Cabinet with Standard Casters with Brakes
Wide Screen 19" LCD Display
Beam Wall Storage Brackets
Frame Rack Measuring Application Brackets
Standard Cabinet and Beam Cover Kit
Software
Standard fundamental Windows® program scheme for fast reliable results